How we're keeping you safe
We want to give you the Bistrot experience you know and love, whilst ensuring a safe environment for yourselves and our teams, so as well as complying with the Government's guidance we will also put in extra measures to ensure everyone's safety.
Please read below to find out more on the steps we're taking to keep you and our teams safe.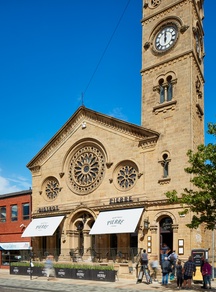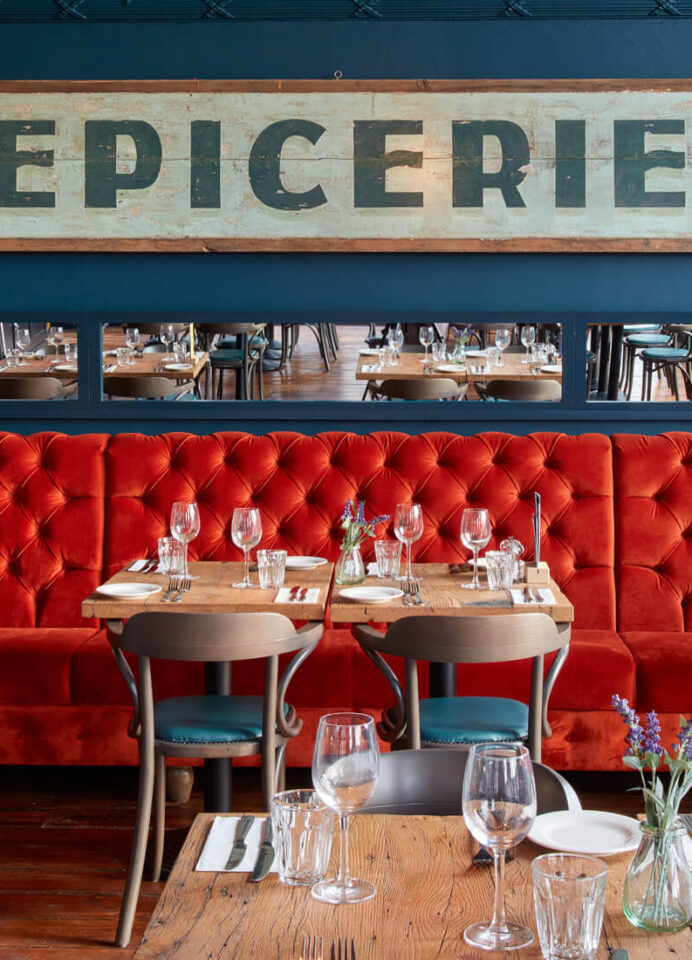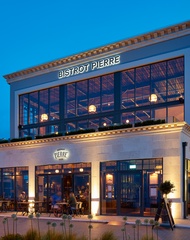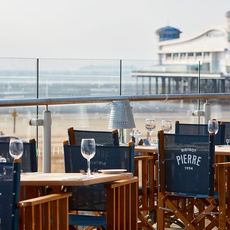 New Covid-19 Rules
Things have changed a little bit recently, yes, but we're working with the new government guidelines to ensure you can continue to enjoy the Bistrot experience you know and love and feel some normality in these crazy times. The changes we will be making are below, we politely ask that you do your best to follow these guidelines.
Closing times: We will be closing a little earlier than usual as our Bistrots MUST close at 10pm sharp every day, but you can join us any time before then. In our Welsh sites we will be allowing for a 20 minute grace period after 10pm where you can finish your meal in a timely manner. From breakfast the Bistrot way, long lunches, our new afternoon tea and Sunday roasts, there's always a reason to visit and of course we'll be serving dinner just perhaps come a little earlier to make the most of your evening with us.
Table service only: Table service is what we do best, so sit back, relax and let us do the work!
Face masks: Every member of our teams were already wearing facemasks and now we ask if you could please remember to bring yours. Guests are now required to wear a face mask on arrival and when moving around the Bistrots. Once seated at your table, you can remove your masks, enjoy delicious food & drink and soak in the atmosphere.
Tables of six: We're already doing this, but just a polite reminder that table capacity is limited to 6 people.
Track & Trace: At least one member of each party is required to provide their contact details using our check in system which is displayed throughout our Bistrots. We will also have the NHS Test & Trace posters available.
Our Bistrots
– Having cleaning, hand washing and hygiene procedures as well as available hand sanitiser stations throughout our bistrots.We have completed a COVID-19 risk assessment in line with Government guidance which has been shared with our teams and reviewed regularly. These include:
– We have taken all reasonable steps to maintain a 2m distance in the workplace and where people cannot be 2m apart, we have done everything we can to manage transmission risk.
As well as this we have implemented extra safety precautions in order to minimise risk:
– We have reviewed the layout of our bistrots and will have fewer tables to ensure sufficient space to allow for social distancing and where possible will implement a one-way system.
– Your tables will not be laid up before your arrival, cutlery etc will be supplied on request.
– The frequency of cleaning and disinfection of all surfaces, including tables, chairs, switches, door handles, push plate doors, toilets, hand towel dispensers, taps, mop handles and all used equipment will be increased.
– We support the NHS Test and Trace and will aim to keep records of customers through the booking system. The lead bookers contact details will be retained on site for 21 days.
-We will currently be offering one all day menu featuring your favourite dishes and popular bistrot classics. Our menu includes a Prix Fixe offering where you can enjoy two/three courses for £12.95/£14.95, available every day, 12pm to 6pm. Our menus will be disposable so that you receive a new menu when you arrive, we will make sure that these are recycled when disposed of.
Our teams
As well as providing vital training for our team members, including re-training on correct hand washing procedures, we are reducing the number of people each of our team members will come into contact with by using 'fixed teams' and encouraging employees not to turn up and finish at the same time. We're helping to achieve this by adopting a more flexible approach to time and attendance. All team members will wear mandatory face visors and any team members who are displaying symptoms or pre-symptoms of COVID-19 will be excluded from the workplace.
Bookings and Payment
Bookings
We currently have no bar area available, so with this in mind please arrive within a -5/+5 minute window of your booking time to avoid delays and overcrowding. Please note that due to the government guidelines we will only be accepting tables of up to 6 people, if you book multiple tables we cannot commit that these will be next to each other.
Payments
Currently card payment is preferred, and we will be introducing an order and pay app which will allow our customers to order food and pay using the app.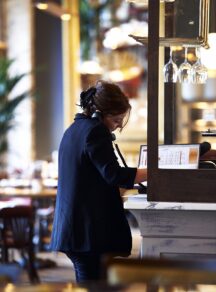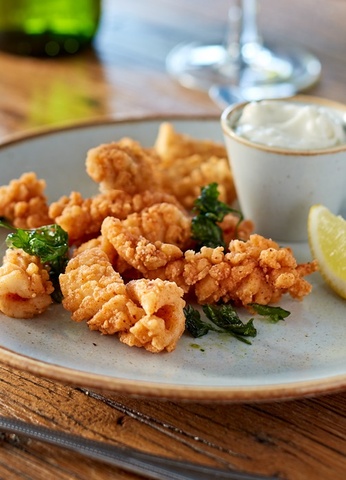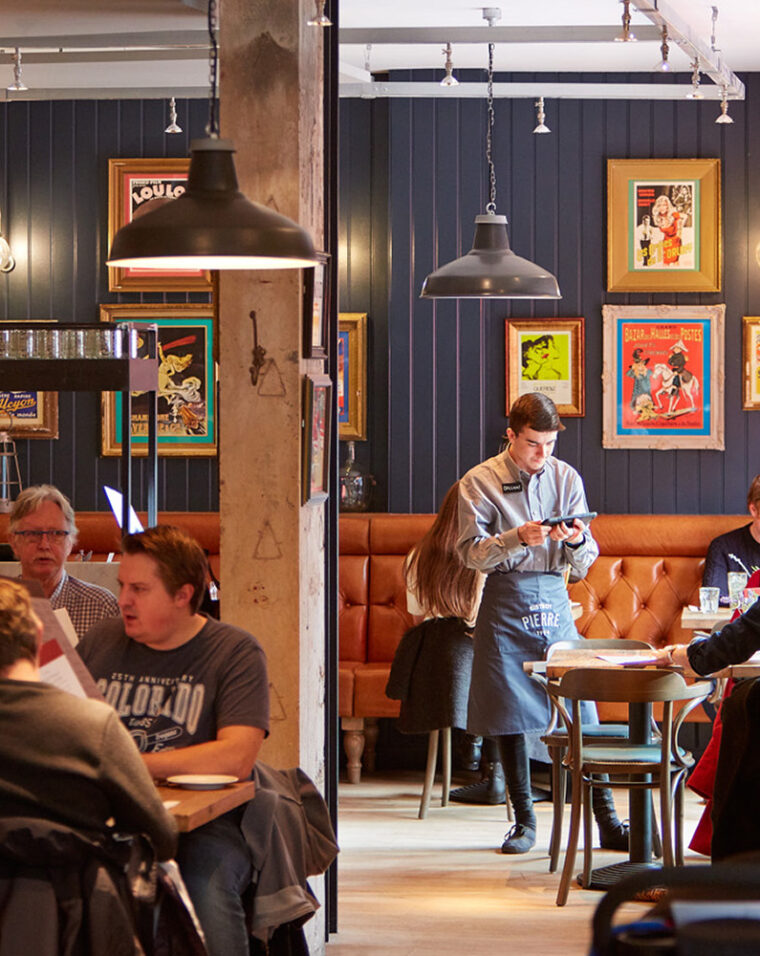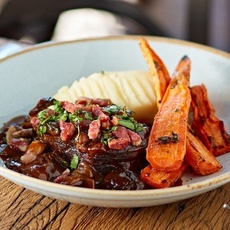 What can you do to help?
During your visit we respectfully ask that you remain mindful of the social distancing guidelines, especially when entering, leaving and visiting the restroom. Where possible, please try and avoid public transport on your way to our bistrot, and if you are displaying symptoms or pre-symptoms of COVID-19 please do not visit our bistrots.
Last updated: November 2020