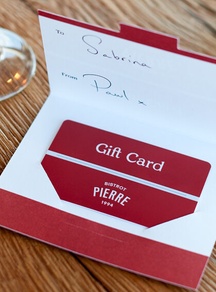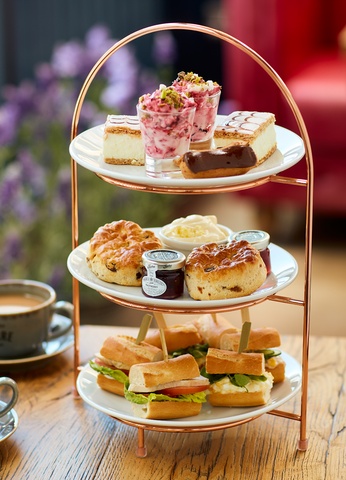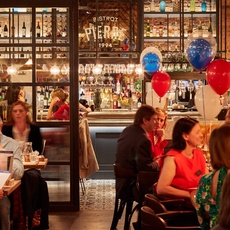 The perfect gift
Give the gift of a bistrot experience with one of our eVouchers by ordering online today. Whether it's Afternoon Tea for Two, a voucher for one of our 6 course Soirée Gastronomique events, or a cash voucher, we've got the perfect gift. Don't worry if you've left the present buying to the last minute, our eVouchers will be emailed to you or the recipient straight after purchase.
Alternatively, you can purchase a physical gift card in your local bistrot.
All gift vouchers expire after 12 months.
If you encounter a problem when ordering please email giftcards@pierre94.co.uk
Start your day the right way by joining us in our Bistrots for a leisurely breakfast. From eggs Benedict and a traditional breakfast to pastries and bacon brioche buns, we have the perfect breakfast to get you ready for the day. What's even better? You can enjoy a cooked breakfast, hot drink and fresh juice for just £9.95. So what are you waiting for? Book now... https://bit.ly/3oqKMVb
Would give this 6*s if I could!
My wife and I came here last night (Friday) and were blown away by how fantastic this place is. We were sat downstairs by the window and had an amazing view of the sea front. We'd eaten at other Bistrot Pierres previously (our old local was Bath) but this one is the best we've ever been to. Service was so so friendly, thank you to OJ for the fantastic experience, he was so friendly and made sure we were looked after. Food was top notch, best roast chicken I've ever had. Drinks were quick and flowing. We'll be returning very very very soon.

https://www.tripadvisor.co.uk/ShowUserReviews-g186259-d7071210-r770013393-Bistrot_Pierre-Torquay_English_Riviera_Devon_England.html#
- DannyHoldddd, Trip Advisor, September 2020
Great First Meal Out in 4 Months
All possible measures had been taken to ensure Covid-19 safety. The value for money is exceptional. Will be back very soon.
- Wendy and David, July 2020
First time away after lock down
Lovely Bistrot, good reasonably priced menu. Recommend the mushrooms on sour bread starter, half chicken for main course and pancakes to finish.
- Roy F, July 2020
Great to be able to return for lunch
It was great to be able to return to the re-opened Bistrot Pierre in Southport for lunch today. We had booked ahead online, to make sure we got in and there were quite a few people who came in without booking while we were there, to eat either inside, or as it was a rare sunny day at the outside tables on the terrace. The tables had been reorganised inside to ensure comfortable social distancing.
- CitySpotter UK, Trip Advisor, July 2020
AS GREAT AS EVER
Our experience with Bistrot Pierre Derby has been brilliant from booking to leaving the table. Our first outing since March, and the team at Bistrot Pierre made it happen: we felt completely safe and welcome as always. The meal and service have been excellent. Bistrot Pierre is definitely a place we would go back time and time again without hesitation. An excellent team, a great place, very good quality meals which deserve praise. Thank you and we'll be back!
- Trip Advisor, July 2020
Lovely evening
First proper dinner out after lockdown, fantastic service and attention to detail particularly on compliance with safety. Food was great and service throughout perfect - highly recommended!
- Bev Sharpe, July 2020
Fantastic evening
First visit after re-opening and as fantastic as always. Reduced menu but still with all the Bistrot classics. Amazing food and satff, Pablo you are a star. Will be visiting again soon.
- Samantha, July 2020
Wow and thank you!
Our first meal out in over 4 months and we returned to one of our favourite restaurants - Bistrot Pierre in Derby. Not disappointed! Staff were amazing and the food was to the usual high standard. Really want to support this place as it is so consistently good. Particularly impressed with the cleaning during and after every table had gone. Just so so nice to be back and huge thanks to the staff at this very difficult time in the hospitality industry.
- Lynne Walley, July 2020
Perfection!
We popped in on the off chance having never visited before. We'll be returning for the great food, excellent, friendly service and great value!
- Shawn Anderson
Never been disappointed
Been many times now and never been disappointed, the food is always consistent and the service excellent. Perfect venue for a chilled out lunch/dinner, highly recommended.

- Libby Cobles
Exceptional value for money
Excellent bistrot with tastefully decorated rooms and a relaxing atmosphere. Delicious, beautifully cooked food, friendly and attentive staff (but not overly so). Exceptional value for money.
- Susan Swain
It never fails!
If it's breakfast, lunch or for an evening, this place ticks all the boxes... I'm a keen foodie come critic so this is an accolade for price, quality, quantity and ambiance.

- Rosemary Clark